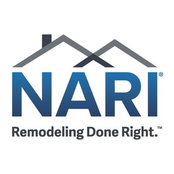 National Association of the Remodeling Industry
Kommentiert: Light fixture! Love it!
The two large light fixtures are made by Genie House, Custom 42" Betsey, 38" tall. For more information contact Todd Schmidt at Renovations Unlimited in Grove City, Ohio. www.RenovationsUnlimited.com
Kommentiert: Cabinets?
Kent Eberle, MCR, CKBR, UDCP, president of Eberle Remodeling, says the vanity cabinet was a furniture piece that was provided by the owner and unfortunately, he doesn't know the name of the original m...