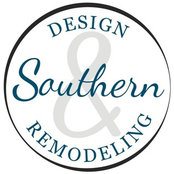 Southern Design & Remodeling
Kommentiert: Cabinet paint color please?
good day: It is a custom color "weathered slate" in one of our cabinetry lines. As far as the uba tuba which most have a lot of green - I would not recommend it as a great combination but i...
Kommentiert: I love this backsplash! Where is it from?
Hi - Thank you for your interest. This specific back splash was purchased by the homeowner, I have sent her a request for info. Thank you and Happy Holidays!!
Kommentiert: Where did you get these glass jars from?
Hi: Thank you for the inquiry... The homeowner purchased direct- I am not sure - try googling glass jars. If that does not work please let me know and I will contact homeowner to find out. Thank y...